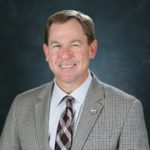 Dr. Thomas Tucker, Superintendent
Princeton City Schools
2016 AASA Superintendent of the Year
John Cohen
Athletic Director
Mississippi State University
$125 per Participant.  SEMIs and CEUs Included.
Refunds must be requested by January 31, 2018.
8:00  – Registration
8:30  – First General Session
9:25  – Concurrent Sessions
10:35 – Concurrent Sessions
11:45 – Luncheon with Speaker – John Cohen
1:00  – Second General Session
-Keynote Speaker – Dr. Thomas Tucker
-Panel Discussion
2:40  – Concurrent Sessions
Barksdale Reading Institute
Corinth School District
Desoto County School District
Gulfport School District
Kosciusko School District
Lamar County School District
Madison County School District
Mississippi State University
Pass Christian School District
Petal School District
Starkville Oktibbeha School District
Tupelo Public School District
Vicksburg Warren School District
Developing Educational Partnerships

School districts can benefit from partnerships, but partnerships must consider multiple voices at the table. Is equity the key when it comes to decision making? This session will explore the critical components of effective partnerships.

Early Childhood Program Development

Research has long proven the benefits of early childhood education. Mississippi's early learning collaboratives reinforce the importance of early childhood programs. In this era of increased accountability, what are the secrets to establishing an early childhood program in your district?

Districts of Innovation

Legislation passed in 2015 exempts Districts of Innovation from certain state regulations while providing them the freedom to utilize innovative methods to better prepare their students for the future. Learn the secrets to success from Mississippi's first three such districts whose innovations have included career academies, modified school calendars, enrichment sessions with project-based learning, and all students graduating with college credit.

Growing Your Own Leaders

Empowering teacher leaders within your district lends itself to the recruitment and retention of teachers, especially in times of teacher shortages. Teacher leadership can also create future administrators for your district or other districts. This session will explore the advantages and risks of investing in your own leaders.

Collective Efficacy

Collective efficacy is the number one factor that influences student achievement. When a faculty shares a sense of collective efficacy and believes that they as a whole can impact student achievement, a school can see remarkable results regardless of the student population it serves. How strong is the power of belief and what does it take for a superintendent or principal to set the tone and expectation for such collective efficacy?

Literacy Leadership

What are effective strategies for significant student growth in literacy? Learn from the Mississippi districts that had the largest gains in ELA during the 2016-2017 school year. What changes did they make to take their students to the next level?